[ Home ] [ Who are We? ] [ History ] [ Meetings ] [ Minutes ] [ Club Schedule ] [ Plunder and Possibles ] [ Shoots ] [ Squirrel Camp ] [ Rendezvous ] [ Pictures ] [ Cartography ] [ Games ] [ Contacts ] [ Links ]
Club Shooting Competitions: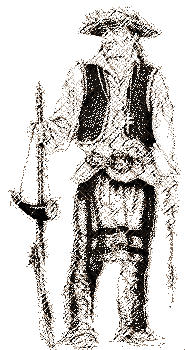 The Jefferson Longrifles are dedicated to honing the skills that were needed in the 17th and 18th centuries in order to survive in a new, and many times, hostile frontier. The primary concerns of the day where the need for shelter from the elements, to gather food and hunt game, and the ability to protect and defend yourself and your kin from the dangers of the land. The later two of these concerns hinged upon the frontier persons ability to hit their target by either throwing a hawk or knife, shooting a primitive bow and arrow, or shooting either a muzzle loading, black powder rifle or smoothbore gun.
Each month the Jefferson Longrifles gather at Grey Fox Farm to demonstrate to visitors and prospective members the proper use of these skills, as well as to share in friendly, and sometimes heated, competition. These friendly competitions include hawk and knife throwing matches, black powder rifles target shooting matches, and a challenging woods walk for primitive bow and arrow.
SAFETY is a must in all of these categories. There is an appointed Range Officer at all shooting events with the specific task of strictly enforcing the Range Safety Rules. ANYONE who exhibits unsafe activity at these events will be politely asked to leave (with extreme prejudice).
BLACK POWDER SHOOTING & RANGE RULES
Dates and Times:
The club shoot is held on the second Sunday of each month at The Grey Fox Farm, located off of Tower Road in Tallahassee, Florida. The exception to this is the month of May in deference to Mother's Day, or in the event of a conflict with a pre-scheduled Rendezvous.
We generally gather around 12:00 pm and have lunch, then set up. Archery starts promptly at 1:00 pm, and Black Powder rifles start at 2:00 pm. Hawk and Knife competition are conducted throughout the course of the day. Please contact us for further directions and information if you are interested in joining us for the fun.
[ Home ] [ Who are We? ] [ History ] [ Meetings ] [ Minutes ] [ Club Schedule ] [ Plunder and Possibles ] [ Shoots ] [ Squirrel Camp ] [ Rendzvous ] [ Pictures ] [ Cartography ] [ Games ] [ Contacts ] [ Links ]